(left)  Portrait of Cornell by Duane Michaels
(right)  Untitled 1942; Construction, 13 1/8 x 10 x 3 1/2 in; Private collection, New York
Joseph Cornell was an American artist who lived and worked in Queens, New York from the early 1930's to the early 1970's. He lived with his mother and his invalid brother, Robert, for whom he was  a full-time caregiver. He worked in the basement, at the kitchen table and in his garage.
He was never formally trained to be an artist, did not paint, sculpt in a traditional sense, or take photographs. Inspired by Max Ernst's collages, which he saw in 1931, he began to make his own collages and later began to create assemblage sculptures, which were three dimensional collages made from objects, printed material and usually set inside display boxes. Joseph also make collage films from discarded motion picture film reels found in Manhattan thrift stores and garbage bins. He also made films by enlisting young filmmakers, like Stan Brakhage, to shoot footage for him.
Max Ernst,
Rêve d'une Petite Fille qui Voulut Entrer au Carmel,
1930.
collage made with found engravings
I first saw Joseph Cornell's work when I came to study at the School of the Art Institute of Chicago in 1982. The museum has a large collection which is still on display today. Joseph somehow managed to  inexplicably compress all time and space into these concentrated forms; evoking memory and the cosmos. I longed to know how he accomplished this. After several years of making assemblage sculptures myself, I read Lindsay Blair's book: Joseph Cornell's Vision of Spiritual Order . She reveals his method in her book, which led me to understand and appreciate his work on a deeper level.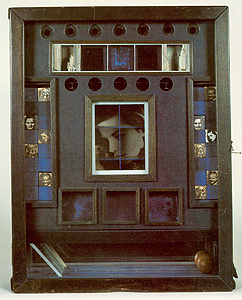 Untitled (Penny Arcade Portrait of Lauren Bacall)
1945-46 ; Construction,
20 1/2 x 16 x 3 1/2 in;
Collection Mr. and Mrs. E. A. Bergman, Chicago
(Art Institute of Chicago)
Joseph would experience "epiphanies", serendipitous moments in time that he understood as clear, sparkling revelation. Immediately, he would begin a dossier about the event. Every time he came across images, objects, music, essays, stories or poems that somehow related to the event, he would include them in the dossier. He amassed hundreds of these dossiers, each often taking several years to compile. When he wanted to create a work of art, he'd open a file and make a box that evoked the epiphany, now a curated memory with broad connections.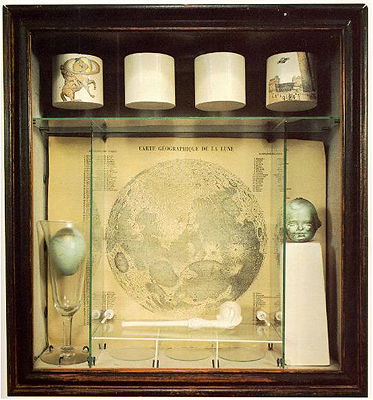 Untitled (Soap Bubble Set)
1936; Construction,
15 3/4 x 14 1/4 x 5 7/16 in
Wadsworth Atheneum, Hartford, CT
Links to more information about Joseph Cornell:
Web Museum, Paris: Joseph Cornell
New York Times Articles about Joseph Cornell
Photographs of Cornell by Harry Roseman
A free digitized book about Cornell by The Guggenheim Museum
Joseph Cornell's film "Nymphlight" (1957, 7.5 min.) on Youtube